Dr. William Degenhart Receives Beacon of Hope Award from Georgia Lions Lighthouse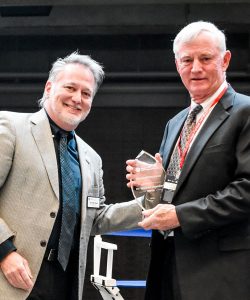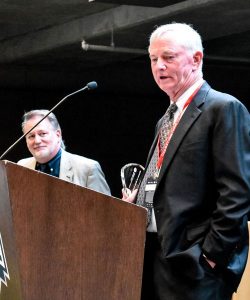 October 19, 2018 – Savannah, GA – Dr. William Degenhart, board-certified ophthalmologist and founding partner of Georgia Eye Institute, received the Georgia Lions Lighthouse Beacon of Hope Award last night at their annual Evening in the End Zone event held in Atlanta.
The Georgia Lions Lighthouse Beacon of Hope Award honors a medical professional who demonstrates an unwavering commitment to vision or hearing care for the uninsured in his or her community. Dr. Degenhart has been providing eye care since 1982 and his volunteer efforts and support of those in need throughout Savannah and Southeast Georgia continue to inspire and encourage many.
Georgia Eye Institute provides primary eye care, optical retail locations and sub-specialty eye care in 13 locations conveniently located throughout Southeast Georgia and the South Carolina. The sub-specialty eye care includes cataract evaluation and management, retinal care, glaucoma management, functional cosmetic eye surgery and LASIK laser vision correction.